Functional Art
SculpTree Coffee Table
This truly amazing functional art piece, happens to be also a rugged and durable coffee table. As the name suggests it, "Sculp-Tree" is a sculpture-like design inspired by a beautiful tree near the artist's studio. The overall shape, as well as the growth rings in the top design reflects this tree-based theme. There are over 7 species and 1,200 pieces in this rustic beauty. Each piece features interlocking joints for added strength. Every 8 layers is a different species of wood. There are no veneers used in this functional art. Sculp-Tree boasts 1 ½" thick, solid wood construction. This truly one-of-a-kind layered construction base is capped with a beautiful, handscraped solid top (also avaialble in a wood and marble combination leaves & mushrooms inlayed top).
Size: 43" L X 26" W X 19" H 
Species: quarter sawn oak, walnut, maple, cherry, teak, wenge 
1,200 pieces 
TOP: quarter sawn oak and walnut, hand sculpted 
Finish: 100% solids penetrating alkyd oil 
As of 2017 we now sell "Sculp-Tree" direct. This means you can now buy it at a MUCH lower price. High end NYC boutique stores would retail it for $13,000-$15,000. Direct from us it is $7,500! We can deliver in the NYC area or ship out in 2-3 weeks.
Free pickup in Florida, or flat $300 shipping in the continental US.
A FAVORITE AT THE ARCHITECTURAL DIGEST DESIGN SHOW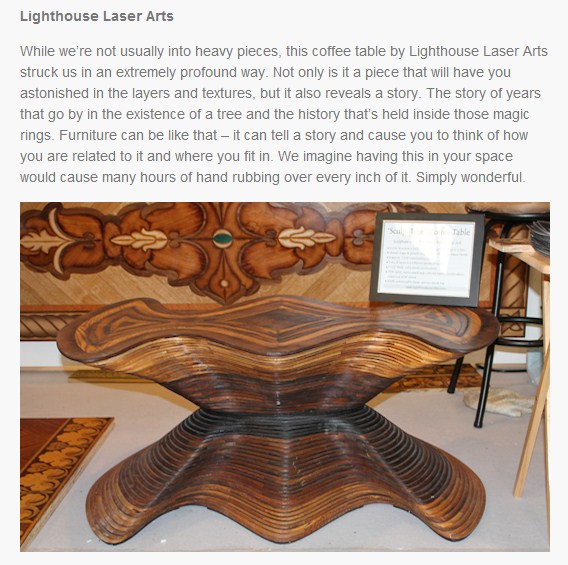 Our "Sculp-Tree" coffee table was chosen to be among Gloss NY's favorite products at the 2013 Architectural Digest Home Design Show.
We had a very succesful show, thanks to a great degree to this truly one-of-a-kind coffee table. Built in layers, consisting of over 1,200 pieces and 8 species of solid hardwoods. It was truly a show stopper!
SculpTree Video
Octo-Twist Table
Similar layered construction as the "Sculp-Tree" coffee table, but this one comes with a twist. Literally! Thousands of pieces harmoniously rotate and twist as the layers "grow" upward. The solid walnut and wenge top follows and completes this "twisted" inspiration.
Top Diameter: 50" overall
Height: 30"
Call us for more info and pricing!
Coffee Tables
WWII Game Globe Table
Our WWII globe table features select hardwoods and various solid and engineered stone elements. After the inlay process, it is further enhanced with our gradient shading process for a true 3D look. The continents are slightly elevated "out of the oceans" for a real topographical feel.
The WWII globe table is also available in a modern "real world" map version. As always with all of our products, everything from size to theme can be 100% customized.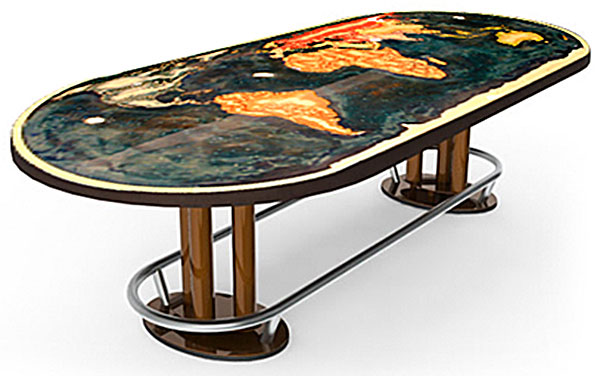 Large DR Table
This large 5' x 20' custom, contemporary, inlaid dining room table features solid hardwoods and various cast stone elements to produce stunningly rich colors.
Family Crest Lazy-Susan
Inlaid custom family crest made into a lazy-susan. Talk about a conversation piece! After the inlay process, further detail was added with our "floor tattooing".
Artistic Lighting
Introductory Price
$649 w/FREE SHIPPING!

CYLINDER WAVE (Overall Size: 22" height x 17" width)

Introductary Price
$399 w/FREE SHIPPING!



Everything about these pendant lights/chandeliers speaks of high quality and attention to detail. These fun, modern, extra wide slats wooden pendant lights will bring beauty and elegance to your space. There was no compromise in quality here. Extra wide slats were used in order to maximize the visibility of the twisting shapes. We also doubled the amount of slats in this functional art. By using extra wide slats, the materials fill in the "visual gaps" (light still comes through) from any side angle, complimenting the motion-like shape of the design.
Prices for both units are for fully assembled, finished, ready to install with everything you need, including all the lighting components (with 3 sockets, each capable of handling up to 600 watts - bulbs not included), as well as wiring, chain and ceiling canopy.